Latest Nursery News February/March 2022
Links Nursery Balmedie staff and management team would like to wish you a happy new year!
*********************
Links Nursery Balmedie provides care for children aged 0 to 5 years.  To find out more, or to book a tour, please enquire with our friendly manager Andy on 01358 743094 or email him at manager@linksnurserybalmedie.co.uk. Do get in touch, we are happy to help.
As you may be aware Links Balmedie has remained open throughout the COVID19 pandemic. We have been focused on ensuring children are comfortable and happy, and on supporting their health and wellbeing. We have been reading stories, baking, modelmaking, spending time outdoors in the garden and going for beach and forest walks. Check out some of the experiences children have been enjoying below.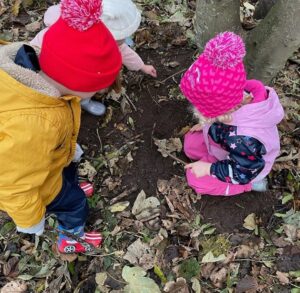 Health and Wellbeing
COVID operational safety guidelines are in place and working well. All staff have completed COVID 19 training and many have also completed mental health awareness training and are therefore well able to support any children who may be anxious about the ongoing pandemic. Health and safety and children's wellbeing have always been important for the care of our children but have assumed even more importance in recent times. We want to reassure you that we are taking every step to ensure that your children are safe, well and appropriately supported whilst still enjoying nurturing and stimulating play and learning experiences.
If you have any concerns or questions, please do let us know.
********
About Us
'Children within the service were happy, settled, busy and having a lot of fun. Throughout the nursery there was a culture of positivity and caring, clearly focused on the needs of the children. The staff team were knowledgeable about the children, warm, attentive and nurturing which resulted in a secure and respectful environment for them. The relaxed and nurturing environment contributed to children's sense of belonging and confidence. Children were at the centre of everything staff and management did, and were provided with varied learning environments which intrigued and excited them.'
                         The Care Inspectorate, 5 April 2019
Housed in bright, modern purpose-built nursery facilities with ample parking, in the heart of the village of Balmedie, Aberdeenshire, Links Nursery can accommodate a total of 101 children in our spacious, well equipped children's playrooms. We also have two attractive, large and inviting garden areas to the front and side of the building, as well as a smaller garden area to the front.  Our lovely nursery provides quality childcare, and a safe, nurturing learning environment for children aged 0 to 5 years. Our aim is to ensure all our children are welcomed, valued, supported and cared for to the highest standard.
Serving Balmedie, the surrounding towns and villages including Potterton, Belhelvie, Bridge of Don, Dyce, Ellon, Peterhead and the wider Aberdeenshire area, we are a very flexible nursery and offer a variety of childcare contracts to suit differing family needs, including full time, part time, and a limited number of shift pattern and term time only options. Our opening hours are 7.30 am until 6 pm. We are also registered as a council partner provider nursery, and can offer council funded places for children aged 3 and over and eligible 2 year olds.
If you are looking for a quality early years nursery placement for your child, why not contact our management team on 01358 743094 to arrange to pop in for a tour of the nursery or to have chat about what we have to offer? We look forward to welcoming you and your family.
Our inspection report is available online from www.careinspectorate.com
We also have sister nurseries in Edinburgh, Musselburgh in East Lothian, and Duns in the Borders. You can find more information about these nurseries at www.city-nursery.co.uk , www.linksnursery.co.uk , and www.linksnurseryduns.co.uk